Yixin combines a creative and assertive litigation style with a superb technical training (molecular biology, bio-engineering) in his legal practice. Yixin has appeared regularly and argued recently in the Federal Circuit, led and participated in bench trials in Federal District Courts and inter partes review in the Patent Office, and litigated numerous patent cases covering a broad range of technical fields, such as pharmaceuticals, methods of treatment, and electronics.  
Yixin is also experienced in handling cases involving shareholder and partnership disputes, white collar defense, trademark disputes, and allegations and counter-allegations of false advertisement, unfair business practice, antitrust violation, and theft of trade secret. Yixin serves as an arbitrator with the American Arbitration Association.
Litigation to Achieve the Client's Business Goals
The clients' needs and concerns go beyond the particular litigation proceeding at hand.  Yixin has fine-tuned his practice to adapt to the various business, regulatory, and legal needs the clients may have.  Yixin has had extensive experience advising clients in legal issues that pertain to developing and achieving their business goals. He has represented and provided advice to some of the largest pharmaceutical companies as well as smaller companies in complex matters, including but not limited to Hatch-Waxman ("Paragraph IV") cases. He has also drafted formal opinions on patent evaluation and Paragraph IV notice letters on different types of drug products.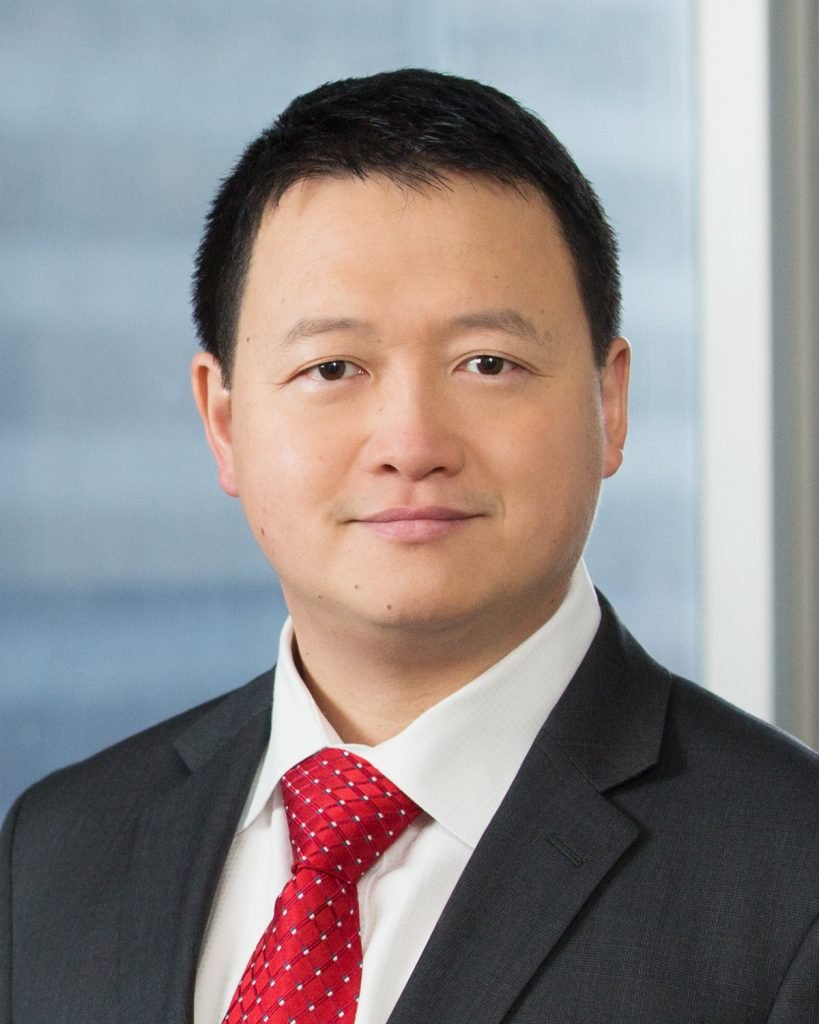 Yixin has spent substantial in-court time, including arguing in appellate courts, conducting trial and IPR, and arguing substantive motions.  Yixin gained in-depth knowledge on all phases of litigation. He has the ability to understand quickly the big picture as well as specific issues in the case, develop an efficient and effective litigation strategy from the start, and form and lead a team to execute the plan. 
Yixin is particularly adept at working with expert witnesses in a wide range of technology spaces, including medicine, pharmaceutics, formulation design, dosage form manufacturing, the chemical arts, crystal forms and amorphous forms, the drug discovery process, biotechnology, biologics production, mechanical devices, computer software, computer modeling, engineering (for example computer chip design and manufacturing), economics, sales and marketing, and patent office and FDA procedures.  Yixin is quick to understand how each expert's expertise fits into the legal strategy, to formulate strong arguments that are both legally and technically sound. 
Prior to attending Harvard Law School, Yixin obtained a Ph.D. in Molecular Biology and Microbiology from Tufts University, taught microbiology to pre-med and graduate students at Brandeis University, and conducted post-doctoral research at the Whitehead Institute for Biomedical Research in Cambridge, Massachusetts, during which time he also mentored undergraduate students from MIT. Yixin's research interests involved plasmid vector engineering, microbe-host interactions and microbial pathogenesis (including the discovery of the bat operon in B. fragilis), vertebrate embryonic development and the regulation of genes involved in signal transduction (including the discovery and functional analysis of the nlz2 gene in zebrafish).
J.D., Harvard Law School

Ph.D., Tufts University (Molecular Biology and Microbiology)

B.S.,

summa cum laude

, Minnesota State University, Mankato

Attended, Fudan University (Dept. of Genetics and Genetic Engineering)
Illinois

New York

Massachusetts

U.S. Court of Appeals, Federal Circuit

U.S. District Court, Northern District of Illinois

U.S. District Court, District of Massachusetts
Patent Litigation – Compound Patents
Arbor Pharma v. Saba Ilac Sanayii ve Ticaret AS

, 22-353 (D. Del.) (azilsartan)

Acadia Pharma v. MSN Labs, 20-1029 (D. Del.) (pimavanserin)

Otsuka Pharma v. Prinston Pharma

, 19-1956 (D. Del.) (brexpiprazole)

Chen v. Jung

, 18-2015 (C.D. Cal.), 20-1255 (Fed. Cir.) (apalutamide)

Novartis v. Ezra

, 15-150 (D. Del.), 17-2284 (Fed. Cir.) (fingolimod)

Boehringer Ingelheim v. Alkem

, 14-7811 (D.N.J.) (dabigatran)

Genzyme v. Sandoz

, 13-1507 (D. Del.) (plerixafor)

Pfizer v. Sandoz

, 11-1252 (D. Del.) (temsirolimus)

Hoffmann-La Roche v. Mylan

, 09-1692 (D.N.J.) (capecitabine)

Forest Labs v. Cobalt

, 08-21 (D. Del.) (memantine)
Patent Litigation – Crystalline Form or Crystalline API Patents
Acadia Pharma v. MSN Labs

, 20-1029 (D. Del.) (pimavanserin)
H. Lundbeck v. Prinston Pharma

, 18-88 (D. Del.) (vortioxetine)
AstraZeneca v. Alkem

, 15-6609 (D.N.J.) (esomeprazole) 
Otsuka Pharma v. Apotex

, 14-8074 (D.N.J.) (aripiprazole)
Teijin v. Sun Pharma

, 13-1852 (D. Del.) (febuxostat)
Cephalon v. Sun Pharma

, 11-5474 (D.N.J.) (tiagabine)
Genentech v. Sandoz

, 11-1925 (N.D. Cal.) (valganciclovir)
Schering/Merck v. Apotex

, 09-6373 (D.N.J.), 12-1516, 12-1543 (Fed. Cir.) (mometasone)
Patent Litigation – Formulation/Dosage Form Patents
Galderma Labs v. Prinston Pharma

, 22-1166 (D. Del.) (doxycycline)

Arbor Pharma v. Saba Ilac Sanayii ve Ticaret AS

, 22-353 (D. Del.) (azilsartan)

Pfizer Inc. v. Sinotherapeutics Inc.

, 21-1427

and 22-1484

(D. Del.) (tofacitinib)

Acadia Pharma v. MSN Labs

, 20-1029 and 22-1388 (D. Del.) (pimavanserin)
Otsuka Pharma v. Prinston Pharma

, 19-1956 (D. Del.) (brexpiprazole)
Purdue Pharma v. Intellipharmaceutics

, 17-392 and 18-404 (D. Del.) (oxycodone)
Fresenius Kabi v. Fera Pharma

, 15-3654 (D.N.J.), 17-1099 (Fed. Cir.) (levothyroxine)

Boehringer Ingelheim v. Alkem

, 14-7811 (D.N.J.) (dabigatran)

AstraZeneca v. Sandoz

, 14-3547 (D.N.J.) (fulvestrant)

Cephalon v. InnoPharma

, 14-1238 (D. Del.) (bendamustine)

Millennium v. Apotex

, 13-1874 (D. Del.) (bortezomib)

Medicis v. Alkem

, 12-1663 (D. Del.) (minocycline)

Pfizer v. Sandoz

, 12-654 (D. Del.) (temsirolimus)

ViiV v. Lupin

, 11-576 (D. Del.) (trizivir)

Teva Branded v. Perrigo

, 12-1101 (D. Del.) (albuterol)
Patent Litigation and inter partes review – Method of Treatment Patents
Newron v. Aurobindo et al., 

21-843 (D. Del.) (safinamide)

H. Lundbeck v. Prinston Pharma

, 18-88 (D. Del.) (vortioxetine)

Allergan v. 1474791 Ontario

, 15-3372 (N.D. Ill.), IPR2016-102 (botulinum toxin)

Otsuka Pharma v. Apotex

, 14-8074 (D.N.J.) (aripiprazole)

Teijin v. Sun Pharma

, 13-1852 (D. Del.) (febuxostat)

Genzyme v. Sandoz

, 13-1507 (D. Del.) (plerixafor)

Medicis v. Alkem

, 12-1663 (D. Del.) (minocycline)

Schering/Merck v. Apotex

, 09-6373 (D.N.J.) (mometasone)

Forest Labs v. Cobalt

, 08-21 (D. Del.) (memantine)
Patent Litigation – Other Types of Patents
Newron v. Aurobindo et al.,

21-843 (D. Del.) (safinamide) (chemical impurity;

manufacturing methods)

Purdue Pharma v. Intellipharmaceutics

, 17-392 and 18-404 (D. Del.) (oxycodone) (chemical impurity; manufacturing methods)

Teva Branded v. Perrigo

, 12-1101 (D. Del.) (albuterol) (delivery device)
AMD v. Samsung

, 08-986 (N.D. Cal.) (computer chip design; chip manufacturing)

DE Tech. v. Dell

, 04-628 (W.D. Va.) (internet commerce)
Other Litigation and Adversarial Proceedings
Bausch Health (Valeant) v. ECI Pharma

, 18-355 (N.D. Cal.) (false advertising; antitrust violation)

Racies v. Quincy Biosciences

, 15-292 (N.D. Cal.) (consumer class action)

In re Daniel Duquette

, 08-14 (Massachusetts State Ethics Commission) (gratuity statute/baseball operation)

Pellegrini v. Silva

, 70 Mass. App. Ct. 1110 , 2007 WL 3333247 at *2 (2007), further appellate review denied 450 Mass. 1109 (2008) (foreclosure by entry and possession)